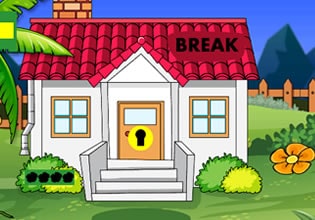 White Yorkshire Escape
The white Yorkshire is actually a house colored in white situated near a river in the wilderness and they raise quality farm animals there, that's why harvests are done every week with only one to two individuals at a time. That day, Jonah was in the place again to collect a high-quality pig there to be slaughtered for its prized meat. This pig will yield a high-quality meat and a really nice taste too thanks to the natural methods done at Yorkshire, but there was a problem that day though and the people there needs a little help.
Jonah couldn't retrieve the pig yet, for the keys to its temporary cage are missing and they couldn't find it! They couldn't break the cage for they still need that thing next week and they cannot buy a new one at the moment. Okay, the most ethical thing to do is to find that key and besides, Jonah will help so that things will move faster here, and on the bright side he still have time to spare. Escape players, you will now be playing as Jonah here and finding the key is now your task so you can then retrieve the pig which you cam for.
White Yorkshire Escape is another new point and click item retrieval escape game made by Games 2 Jolly.
Other games by -
Walkthrough video for White Yorkshire Escape