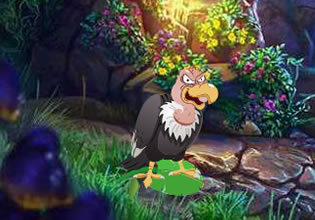 Wet Magical Forest
The magical forest is soggy definitely, but that doesn't change the fact that the forest is still weird and people might as well be very careful whenever they venture the place. That day though, Georgie is in the place as he usually does to go in a small adventure there and to collect herbs and spices which was in decent numbers growing wildly in the place. He knows how to move around there, but on that particular day though something different happened and that definitely got Georgie into a bit of a bind.
Georgie got lost in the forest and now he is starting to see things there! Oh no, he pondered to himself. He just knows this is not good, for according to some people who have experienced such in the forest before, this kind of thing is just the start and the only way to escape from this now is to really get away from the place. Georgie knows that and he is off, but he is going to need a little help here for he is lost and he fears he might take the wrong path and get even more lost in there. Will you help Georgie here escape players so he can get out of there quick and easily?
Wet Magical Forest is brand new point and click wilderness escape game from Games 2 Rule.
Other games by -
Walkthrough video for Wet Magical Forest