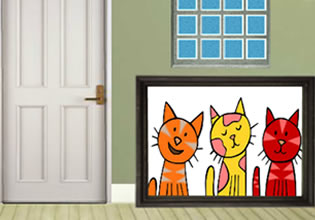 Weird Kitty Escape (8B Games)
Your friend Irma just adopted this new kitten but she is a little bit concerned with it though, for it was weird but in a bit of a good way though, for it was smarter than any cat she knows. You were intrigued of this, so that day you went to her house just to see this creature and have a look at what she is talking about, but there was a problem though and that must be solved first.
Escape players, the problem was about Irma's cat and it needs help, want to see what happened to and what kind of trouble is it into? Go ahead then and may you be able to help Irma here and her new cat with your skills and logic.
Weird Kitty Escape is a brand new point-and-click pet rescue escape game released by 8B Games.
Other games by -
Walkthrough video for Weird Kitty Escape (8B Games)