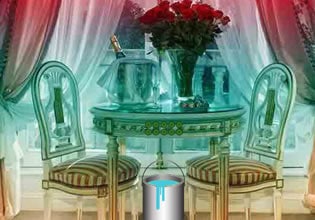 Wedding House Escape
The wedding house and venue is a place for both a wedding reception and some other event. The hall is definitely vast and romantic and a wedding's reception will really suit there. That day even, Geraldine was in the place for she was observing some of the halls there as a wedding was commencing. It was going to be her wedding in a few weeks too and she is just watching on how things work there so she can expect stuff like a big and grand cake when her wedding day comes. And so Geraldine roams around as a wedding is being prepared there, but she never thought she'll come across a problem and now she couldn't fix it!
Geraldine got lost in the halls and now she really couldn't find her way back! She is hearing the music of the current wedding which was being celebrated, but it's really weird she can't get to that area. Okay then, looks like she needs a little help here now, and escape players you are the only one she can get it from for nobody was with her at the moment. Will you be able to help her navigate then while she still has a positive attitude to this venue?
Wedding House Escape is a brand new point and click area escape game from Games 2 Rule.
Other games by -
Walkthrough video for Wedding House Escape