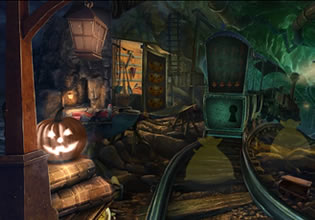 Virile Halloween Escape
Monsters are now entering the town to play around and have fun with the people in the eve of Halloween! Some of the monsters are quite cute, but the others looks old and scary. One of those creatures which was not very nice to look at is this wooden-like troll or some sort. But even though he may look not-so good, he is still allowed to enter in the town every year for he doesn't really cause a problem to the place and only comes to have fun. But now that evening he is going to need some help there and luckily, one of the officers in the place found him.
This officer is Kate and he saw the creature trapped. She is very much familiar with this one so when she found him trapped there, she immediately tried to help. But officer Kate is going to need some added help here though, for she couldn't open the place where the creature is trapped so it seems, so escape players would you like to help her?
Virile Halloween Escape is the newest point-and-click rescue escape game from Games 4 King.
Other games by -
Walkthrough video for Virile Halloween Escape