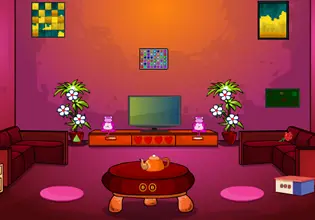 Valentine Room Escape (Nits Games)
You want to have a date on Valentine's day and the fastest way for that to happen is speed dating. You heard that there is a speed dating in Nits Restaurant in their Valentine Room. So you joined and hoped that you can find "the one." But that's not what you found in the room. You found your ex-boyfriend hanging around with some other chic. His presence irritates you and at the same time, it hurts you. Instead of fun, sadness is what you are feeling right now. Because of that reason, you have to go out before tears flow from this room. But looks like cupid has a plan for you because the door won't open. But seriously, you don't want to see him anymore.
Escape from the room before he sees you because you might not control your feelings. Stay focused and use your logic to escape. There are objects that you can collect that can open the door. There's not much time left before the speed dating ends so you have to escape quickly. Don't let your heart break and play Valentine Room Escape (Nits Games). This brand new point and click room escape game is from Nits Games. Good luck and have fun!
Other games by -
Walkthrough video for Valentine Room Escape (Nits Games)