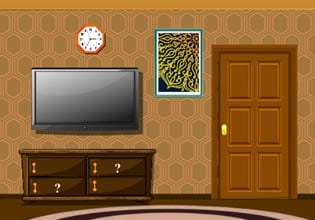 Umber House Escape
The umber colored house, a strange place and a well known one too. As an investigator, Cheryl decided to finally check the place for she had the time now and she just wants to uncover the secrets of what the place is hiding. For years the house have been playing with its different occupants like the opening and closing of doors as well as missing objects which would reappear somewhere. It also gets worst as the occupant stays there for longer. Nobody has lasted for long in that house, that's why it just stands there unused and quiet.
And so Cheryl was now there and just as she began, she was immediately greeted with the weird occurrence and now she is trapped! At first Cheryl was calm as things in the place started to unravel right in front of her. But after a while it got a little concerning for all of the doors in all of the rooms now would not open on her! Escape players, Cheryl will begin her escape from there for she seems to have underestimated the place. Will you help her escape as calmly as possible? Slowly then and try not to agitate the house or it might get triggered and make this escape extra difficult.
Umber House Escape is the newest point and click indoor escape game from 8b Games and Games 2 Mad.
Other games by -
Walkthrough video for Umber House Escape