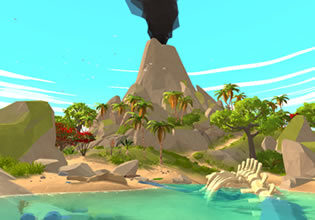 Tropic Survivor Day 1
Dublin is now in this island which he doesn't know where, he also doesn't know it will be his 1st day among many there in this type of wilderness. Dublin was involved in a ship incident at sea which he can remember took out their boat completely, he is lucky to have survived then but he doesn't know where he is. This is absolutely a small island for he ventured there to find someone but he couldn't, and he was back where he woke-up.
Dublin thought of this as a serious thing then, for not only he doesn't have anything on him that can help, he needs to build a shelter soon for the night is approaching and if he doesn't move then he'll be in the cold night there. Escape players, will you help Dublin here gather what he needs from the forest nearby so that he can build himself a small house? Get him through this then so he can think about what he needs to do tomorrow.
Tropic Survivor Day 1 is a new point-and-click outdoors survival escape game developed by Selfdefiant.
Other games by -
Walkthrough video for Tropic Survivor Day 1