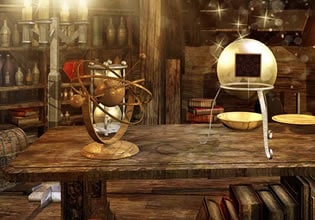 Tree House (Hidden 247)
The old tree-house was just an abandoned place in the forest and nobody really goes there for it could be old enough that if they enter there it could crumble and cause injury. But one early evening however, you and your friend Samson noticed that the tree-house was now glowing very bright like shiny gold! Something was definitely happening there and they can see it clearly, but they just don't know what. Eventually they decided to enter it and discover what's creating this weird sparkly light which seems to be like a dream to the both of you or something.
Escape players, you and Samson are going to discover something there in the tree house which nobody really take notice, but the question is then will you be able to get out from there just in case what you'll find was undesirable? Go ahead then and venture in that now strangely glowing place, be very careful and keep an eye on the exit at all times for this is really a weird and hard to explain occurrence, and the cost of this unexpected adventure might be very high.
Tree House is the newest point and click magical indoor escape game created by Hidden 247.
Other games by -
Walkthrough video for Tree House (Hidden 247)