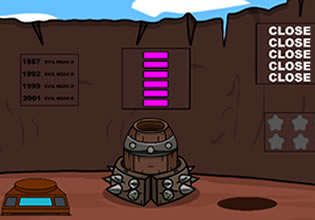 Treasure Trove Escape From Skull Home
The skull house is quite a famous place, but nobody had ever visited it for it is said to be hidden under dozens of feet of snow in the mountains. Why was it so famous? Well that's because the place holds treasures in gold and jewels! As a person who had been trying to find this place for years, Marcus must take this chance of finding that place now, for this is the peak where snow melts and if he waits any longer then the snow will deepen again after a few weeks.
Escape players, this is some treasure hunt Marcus have placed himself into, but he needs to do it for he had already went through lengths just to find this place. Will you be able to help Marcus here find clues and just about anything that can finally point him to the so called skull house's location?
Treasure Trove Escape From Skull Home is a brand new point-and-click wilderness retrieval escape game from Games 2 Jolly.
Other games by -
Walkthrough video for Treasure Trove Escape From Skull Home