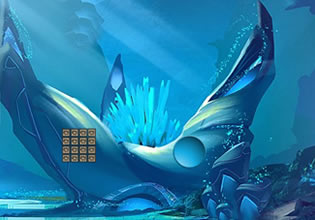 Trapped Dolphin Escape
There is a weird place in the depths of the ocean here, for there is a patch down there which was devoid of water! And what's even weird was there is a luxurious house there! That is where Maxwell's mission is, for the information he pieced to explain why his tagged animals kept disappearing have finally pointed him to that weird place there. But the place is not easy to get to though, for not only it is in the deep part of this sea, the place will absolutely be guarded by who knows what.
The last animal that went missing was this special dolphin, it just went off the radar and for Maxwell that is the last straw. Escape players, Maxwell needs to know what's happening and if ever he can find this missing dolphin of his there as well as his other tagged animals, then he'll rescue them all. Come and help Maxwell here then for this is going to be a bit difficult. Will you be able to assist him so he can get this all done and safely?
Trapped Dolphin Escape is a brand new point-and-click underwater rescue escape game released by Games 2 Rule.
Other games by -
Walkthrough video for Trapped Dolphin Escape