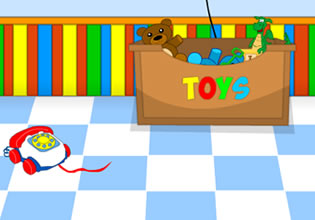 Toy Room Escape (Selfdefiant)
As a kid, Lou doesn't really care of his surroundings and just wants to play all day, that's why his parents made him a toy room and it had everything that he needs that can keep him active the entire day. Everything was typical throughout that day and a kid's brain is growing every moment, that's how Lou finally realized that he needs to do something else rather than being stuck in his toy room all day for he had already played everything there before. But as Lou was about to leave the room however to ask his parents for some food, he found his doors locked and he couldn't get himself out!
Lou felt really confused for this was a strange thing to happen and it had never happened before. He is now beginning to feel trapped but that however was enough to push him to find a way out. Lou already called for his parents but it seems that they cannot hear him, he is on his own now so escape players, will you help Lou here escape by finding another secret path out of the room?
Toy Room Escape is another new point and click room escape game made by Selfdefiant.
Other games by -
Walkthrough video for Toy Room Escape (Selfdefiant)