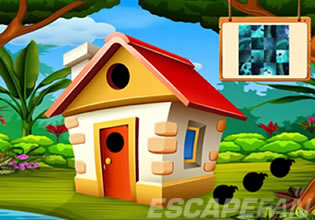 Tortoise Escape 1
Amir was hearing this strange noise outside, so he went out of his house for he can clearly hear it's his cage which he was waiting to catch something. Well, it did caught something, but it's one he doesn't really need, kind of cute actually.
Amir's cage captured a tortoise, that is new definitely for tortoises don't really bother with his cage, maybe it got curious of what it was and got accidentally trapped? Well, Amir needs to get that animal out so it can be on its merry way. Escape players, Amir needs a little help here though, for he cannot find the key to that cage of his. Will you help him then so he can be on his merry way as well waiting for his cage to capture something else?
Tortoise Escape 1 is the newest point-and-click animal escape game created by 8b Games and Games 2 Mad.
Other games by -
Walkthrough video for Tortoise Escape 1