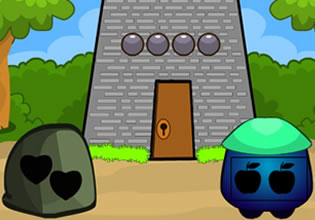 Tiger Escape (Games 2 Mad)
In this green forest there is a stone tower and that's where Greg is for his old tiger pet escaped and when he searched for him, he found him trapped in that said place!
What Greg is confusing about was why his tiger left, it was very old and suppose to be just sitting with him all day and let the time pass. Guess he wanted to do something for he was really inactive for a while. But now he is trapped in a room there in the tower and Greg can see him. It's a good thing nobody lives in that tower, nobody is going to have a heart attack after seeing this beast, but it is also a bit of a disadvantage for he has no help there at the moment. Well escape players at least you are here, will you be able to help in freeing Greg's pet tiger there?
Tiger Escape is another new point-and-click animal rescue escape game made by 8B Games and Games 2 Mad.
Other games by -
Walkthrough video for Tiger Escape (Games 2 Mad)