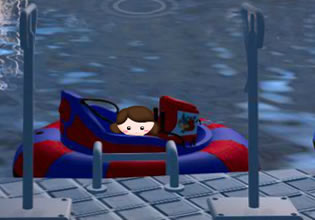 Theme Park Escape (Wow Escape)
There is no place more exciting than the theme park. This is reason why you are looking forward for weekend. This is the only time that you can enjoy the theme park so you make sure that you make the most out of your time in here. You went inside the theme park the whole day from it's opening time until the closing period. But looks like you are having too much fun that you didn't notice that the entire park is now close. You are riding on one boat ride when you realized that there are no people in the park. The final parade of the characters in the theme park is over. You have to leave the park but the problem is, you don't know which way to go.
All of the lights are off so the park is dark. The good news is, there are hints that can show you the right path. However, there are puzzles that you need to solve before you can finally get away from here. You can use the items that you can use in this park to solve those puzzles. Theme Park Escape (Wow Escape) is the newest outdoor escape game by WoW Escape. Good luck!
Other games by -
Walkthrough video for Theme Park Escape (Wow Escape)