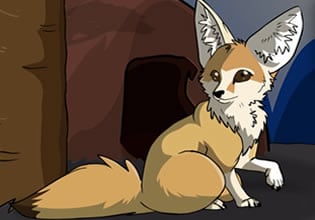 The Kit Fox Rescue
Will has a special friend in the wilderness, this friend is a legit wild-man and he was definitely primitive but he was okay though that's why he keeps the guy a secret. That day as he visit his primordial friend once again, something seems to be happening there and he was having trouble with something.
Will have brought his wild-man friend a cage trap a while ago so he can capture animals, that's what was troubling him though, for he cannot find the key to open it, for right-now a fox was in it! Well surely they can't eat foxes here, his friend might but it seems that he doesn't want to for he was trying to get it out. Escape players, Will's friend here wants to free the fox, come and play as Will here then to help, find this key to the cage and free the animal so it can return to the wilderness safely.
The Kit Fox Rescue is a brand new point-and-click animal escape game from Games 2 Jolly.
Other games by -
Walkthrough video for The Kit Fox Rescue