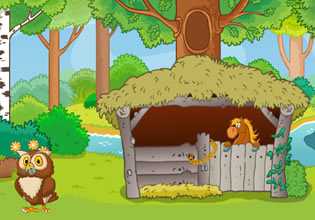 The Horse Escape From Jungle
Elmer's bombastic horse really disturbs him, that's why he transferred him from his barn to his own home a few meters away from his place. As a professional carpenter, Elmer built him a pretty good house and thankfully he seems to like it. But that doesn't stop him from being bombastic though. That day, Elmer is going to get him out and give him a good run along the trail, maybe that'll release a bit of his attitude. But not at this instant though, for Elmer was missing an item and he couldn't get the steed out!
Escape players, Elmer couldn't find the key to its house and he really fears he might have dropped it along the path. Hopefully he didn't and it's just back in the house. Will you help Elmer here so he can get his horse out?
The Horse Escape From Jungle is another new point-and-click animal escape game made by Games 2 Jolly.
Other games by -
Walkthrough video for The Horse Escape From Jungle