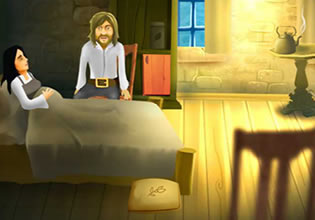 The Ballad Of Ketinetto 11
Dark times have befallen on Fabio in the previous years, but now it seems things are turning-up as he tries his best to fill his blood with adventures. And now, he is currently going from island to island trying to discover something which he calls, his ballad of ketinetto. It has a very specific meaning, and part of it was his offering to his late sister who died a while ago. Now his adventure continues.
Fabio is currently on this island trying to find information to complete this ballad. It is slow recently and things haven't come like a landslide, but there was progress even though minute. Little did Fabio know there was going to be a new adventure that day and escape players, you will be joining him on this one. Escape players, Fabio is going to do some things here now in this island where he and his crew was, want to help him with this then? Be his brains so his adventure here will end successfully.
The Ballad Of Ketinetto 11 is a brand new point-and-click adventure game released by Esklavos.
Other games by -
Walkthrough video for The Ballad Of Ketinetto 11