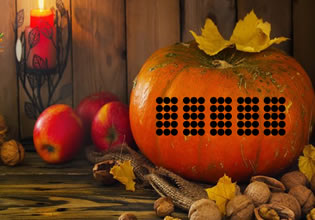 Thanksgiving Pumpkin Room Escape
The thanksgiving celebration is upon everyone and as a person who is festive, Marty is going to go inside the magical pumpkin room again to retrieve some pumpkins there.
Marty doesn't have to plant such, for this said room in the variety magical house has all of the different kinds of pumpkins around the world, and if he takes one there two more just magically appear! A really weird place but a convenient one though. And so Marty is there checking-out the pumpkins when he noticed something, and unfortunately it's a thing that is really not good however. Escape players, Marty experienced something in the pumpkin room and it's an issue, he needs help there now and because he is alone, he couldn't get it from anybody. Anybody except you however. Will you be able to help Marty there with whatever the problem he is experiencing in the magical place?
Thanksgiving Pumpkin Room Escape is a brand new point-and-click indoor escape game released by Big Escape Games.
Other games by -
Walkthrough video for Thanksgiving Pumpkin Room Escape