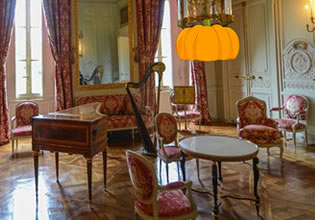 Thanksgiving Castle Maid Escape
This medieval castle have really stood the tests of time, that's all thanks to the professionals who keeps the place in one piece and that includes the castle maids. That week, there was this new maid in the castle and she is still learning the ropes as the rest are used to the place already. That day, there was a thanksgiving party just for them and it will be held at the garden just beside the castle, but as everybody went out to where the party will be, this new maid got trapped inside the castle!
She doesn't know what happened, but she thinks that they might have not known she is still inside and locked the place up. Okay, that's not good, but she needs to find her way out now or who knows when until someone remembers her and why she never came to the party. Escape players, will you help this new maid girl though so that she can get out of the castle much sooner?
Thanksgiving Castle Maid Escape is the newest point-and-click indoor rescue escape game created by Big Escape Games.
Other games by -
Walkthrough video for Thanksgiving Castle Maid Escape