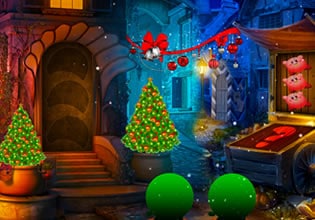 Thanksgiving Santa Escape
Christmas had become absolutely joyous, for Santa was able to deliver gifts around the world successfully. Now that he has returned home a party must be prepared for the success of this year's gift-giving. As everyone was preparing however, something seems to have happened to Santa, for as you went to his house there just to check on him, there was no response.
Maybe he went somewhere else? But where? And so you still checked the place for something seems to be not right here. As you roam around, you were startled to finally find Santa for he was actually trapped in his shed there! You barely heard him when you passed by, it's a good thing that the wind died-down a bit when you did or else you would have missed him. You have no idea why Santa is trapped in there and how, but you've got to get him out of there for clearly he needs help. Escape players, you are now in this situation here, if you choose to do this rescue then you have to do this delicately for all you know Santa might be injured in there.
Thanksgiving Santa Escape is a new outdoors rescue escape game developed by Games 4 King.
Other games by -
Walkthrough video for Thanksgiving Santa Escape