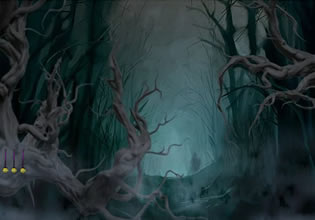 Terrifying Ghost Forest Escape
The entire land here looked hopeless, that's why people don't go there for they don't want to be damned or be in spiraling despair. But that day though, somebody didn't get the memo and still entered the place especially the haunted forest! Which was a place a hundred percent off limits. This person was Abigail and she quickly met the unfortunate darkness of the place.
Abigail is now lost and that is just the beginning, she needs to escape now while she still has a chance, but that might diminish sooner than she thinks. Escape players, Abigail needs to exit from the place now if she knows what's good for her, want to help her then so that the darkness won't get her before she can escape?
Terrifying Ghost Forest Escape is another new point-and-click scary wilderness escape game made by Games 2 Rule.
Other games by -
Walkthrough video for Terrifying Ghost Forest Escape