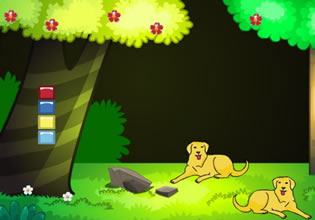 Swan Gate Escape
There is this part of the village here which has some weird illusions, and if one is not able to get passed through them, then they can be trap in the place! As a person who is curious of it, Orville went in there and the first things he saw were these golden retrievers and they are cute and docile. Is this the illusion the place has in-store for him? Thought it was going to be ferocious and scary, Orville said to himself. But the fun is yet to begin though.
Orville realized that he could no longer open the gate where he went in! As he analyzed why, it seems that the gate needs something to open now, which he doesn't have and must first find. Orville is getting a little bit concerned now and he fears that it will increase for this place is famous for that. Orville is not about to just let this happen though, he must get out of there while his chances are still big. Escape players, would you like to help Orville here so he can safely escape this area?
Swan Gate Escape is a brand new point-and-click outdoors escape game from Games 2 Live.
Other games by -
Walkthrough video for Swan Gate Escape