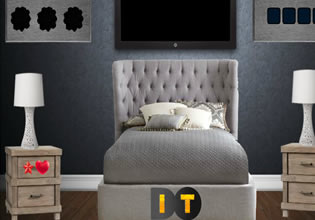 Superhero Kid Escape
Ed is about to pick-up his son for he was at his grandma and quickly now, for they are going to be late at the costume party which he said he will be as a superhero. But as he arrived at the place however, there seems to be a problem, for his grandmother is trying hard to get him out of his room for the door seems to be jammed! Now what did that boy do this time? It couldn't have possibly got jammed without him tinkering with it? He was that kind of kid and whatever he did this time, his father is still going to get him out of this and of course safely.
Ed is having trouble opening the door as well, it seems to be jammed real good there. Escape players, want to help-out on this rescue here for Ed's son so they can all leave? Find random items in the place here then that can help, maybe a key would be most helpful, but the problem is it is currently missing. Make ways here and may your skills be enough on this.
Superhero Kid Escape is a brand new point and click indoor rescue escape game from 8b Games.
Other games by -
Walkthrough video for Superhero Kid Escape