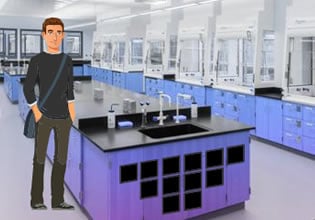 Student Biochemical Lab Escape
Research have gone pretty far now and humans have discovered a lot through the years. One of the aspiring researcher and biochemist student was Clyde and he was ready to uncover breakthroughs which can be considered a treasure of this field! Well he knows he is very likely quite far from that yet and he doesn't know if he'll reach that even. That day he was alone at the lab for he had an assignment and he needs to finish that as well as a puzzling problem. He spent a few hours there and everything went well really, not much hard things to accomplish and very little to no mistakes as he progressed. Little did he know that there was already something brewing in the lab and he only noticed that when he was about to leave.
Escape players, right after Clyde fixed some stuff there before he goes, he head to the door so he can take his leave. But then he noticed that he could not open it and from then he thought now he is trapped! Worst part about that too is he is not really capable of fixing the high-tech door here, which means he'll need to find something which can manually pry it open. This is where you come in escape players, to test your skills on this escape. Will you be able to help him here so he can safely leave the lab?
Student Biochemical Lab Escape is the newest point and click room escape game created by WoW Escape.
Other games by -
Walkthrough video for Student Biochemical Lab Escape