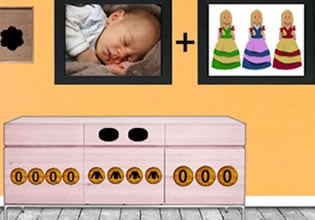 Squid Game Doll Photo Escape
Jordan was invited by his friend to his house for he has this new portrait he made which is in relation to the new series squid game. Jordan wanted to see it too for he thought he might be able to find a buyer for that just in case he wants to sell it, he also wanted to see it. Jordan lived near this friend of his so after an hour when he received the message, he went. But as he arrived to the place however, there seems to be a problem there and his friend was currently trying to solve it.
His friend was trying to open this door which he knows leads to a room. So he asked what was going-on, that's when he knew that this portrait they were talking about is in that room and he cannot open the door! Okay, that's the problem for the day so it seems, but his friend needs help here and so he'll definitely help. Escape players, you will now be in the shoes of Jordan here, will you be able to help in any way so that this door can be opened?
Squid Game Doll Photo Escape is a brand new point and click indoor escape game released by 8b Games.
Other games by -
Walkthrough video for Squid Game Doll Photo Escape