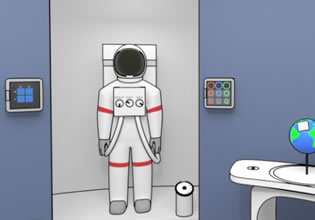 Space Museum Escape
The space museum is just a part of the national museum here which houses hundreds of rooms and each have their own topic to show. As a person who pretty much likes space, Dante really wished to be an astronaut when he grows up, a difficult dream to achieve but who knows maybe one day he'll indeed become one, for now he can only aspire and look at the things here in the space section which had been used on the missions before.
Dante was admiring the computers there that had been used, they are big but the labels it has says that they are no more powerful than a standard smartphone nowadays, yet they sent man to space and the moon. Dante have really became extra pumped-up to become an astronaut as he saw things there, he'll definitely become an astronaut. But as he tried to leave the area however, he came across a problem and now escape players, will you help him there for he is currently alone?
Space Museum Escape is a point-and-click rooms escape game from Masa's Games.
Other games by -
Walkthrough video for Space Museum Escape