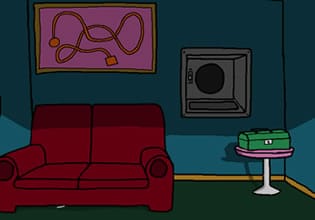 Soup – A – Escape
Escape players, here we go with another game from Colorbomb made with MS paint. This time, we are somewhere in a different planet in the sector of Soup. What a strange way to call a civilization sector in the galaxy, but it is all named to what it looks like though and the planet where that main settlement is which was called Soup A, looked like a bowl of soup from space. At the moment, life isn't all that easy in the planet, as a colonizer there Nick is really struggling but he needs to fulfill his mission here. That day, just when he thought it was going to be a tough day, well it was actually going to be tougher! For now he couldn't get out of his pod which was a small house there where he lives.
He couldn't open the doors and that is quite mysterious, for his door is just a simple one and something like this can be solved quickly, but he couldn't get it to budge though. Okay, what is he going to do here now? Escape players, Nick is giving-up here and he is being consumed by depression, will you help him even just to escape so he'll have hope to continue there?
Soup – A – Escape is the newest point and click indoor escape game from Colorbomb.
Other games by -
Walkthrough video for Soup – A – Escape