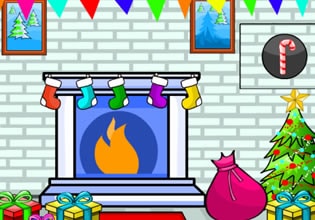 Snowman House Escape (Games 2 Mad)
The snowman house is a mysterious place and it is said to be the home of this snowman which was a creature that moves and gives Christmases to everyone! But nobody sees him though only the things that he does like giving gifts and of course his home which was off-limits. But that day though there was this one person who was really curious and really wanted to see this being. And that was Tom and he decided to go to this snowman's house!
That is absolutely a bad decision, for the place is forbidden to go to and they fear if people go in there without permission, they might scare the elusive snowman away and finally end his gift-giving in the place. But Tom was not worried about that though, well he is right he should not worry about that, for what he should be on the look-out for was himself, that's because something will happen to him there as he enters the place. Escape players, Tom will seriously get in trouble in there, want to see what kind of trouble is that for him and see if you can ever help him as well? Okay then, remember that this place is magical, so anything can happen there in the rooms of the place. Be ready.
Snowman House Escape is the newest escape game from 8b Games and Games 2 Mad.
Other games by -
Walkthrough video for Snowman House Escape (Games 2 Mad)