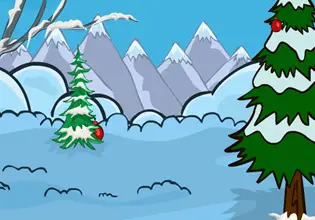 Snowland Christmas Tree
Snowland is simply beautiful. However, as you're walking along the place, you can't help but feel there's something missing. You thought hard about and even asked the other people. Could it be the snow? No! There's already tons of snow. Could it be the reindeer? No! The reindeer are all there waiting for the delivery of gifts. Then could it be the tree? Yep! That's exactly it. Christmas can't be very complete without a tree. So you roam around to look for one. When you finally found one, it's lacking Christmas decors. It can't be called a Christmas tree without the beautiful colorful decorations on it. You asked Santa about the decorations. However, he showed you a mischievous smile and told you that you should find it yourself. You jokingly frowned at Santa but he laughingly told you to search for it around the place.
You can't get pass Santa's cheekiness so you start searching right away. While wondering what to look for, you found some objects that were out of place. A few steps forward, you saw some puzzles. These gave you clues on what to do. Play Snowland Christmas Tree outdoor escape game by Mirchigames and bring more color to the place.