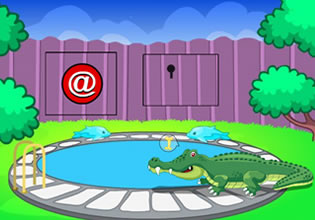 Snake Gate Escape
The place which is enclosed by the snake gate was once a strange one, but now it has gone down and the area is quiet, people are thinking that is rather fortunate for what had been happening in the past there were not really good and now they can visit the place from time to time. But that day though something happened and the first to witness that was Greg who was there.
Greg first noticed that the snake gate was now locked and that's weird, for it is rarely being closed nowadays. So he tried to find the key to it and that's the 2nd thing, for he could no longer find it in the box where they keep it! Was this now the return of the happenings of the place? Greg didn't want to think that but that is a possibility, that's why he needs to get out of there right now. Escape players, want to help Greg here escape the area by finding the key?
Snake Gate Escape is a brand new point-and-click area escape game released by 8B Games and Games 2 Mad.
Other games by -
Walkthrough video for Snake Gate Escape