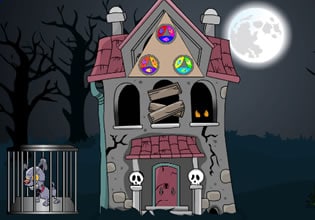 Small Zombie Dog Escape
Ned was one of the things that go bump in the night here, he is a zombie and he has a zombie dog as a pet. In this world where they live in, it is very opposite from the human world who are morning creatures, for them they come out at night. That evening, Ned was ready to walk his dog and meet with the other things that go bump in the night there who are his neighbors. But when he was about to go out though, he realized that his dog was missing!
Ned became confused, well not that he is not always for his brains is really not that intact, but he knows his dog won't run away, well now he is gone and he needs to find him. Escape players, want to help Ned the zombie here find and possibly rescue his zombie dog wherever it is amongst the shambling houses of his neighbors?
Small Zombie Dog Escape is a brand new point-and-click monster rescue escape game from Games 2 Jolly.
Other games by -
Walkthrough video for Small Zombie Dog Escape