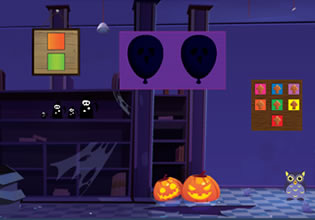 Skeleton Family Escape For Halloween Party
Halloween is now commencing and Rio is still trying to rescue these UN-dead beings in a house there for they are currently trapped in a room in the place.
Rio have been trying to get inside the house but unfortunately, he couldn't and he now thinks he needs help here for nothing is really working. He wonders if somebody actually did this on purpose, for the locks in the place were pretty tough and if this was an accident then he should have been able to make his way inside easily. Escape players, the UN-dead Rio is going to rescue is a family of animated skeletons, they need help now for they can't get out and have fun on Halloween's eve. So would you like to help Rio and get this rescue done?
Skeleton Family Escape For Halloween Party is a brand new point-and-click spooky rescue escape game released by Games 2 Escape.
Other games by -
Walkthrough video for Skeleton Family Escape For Halloween Party