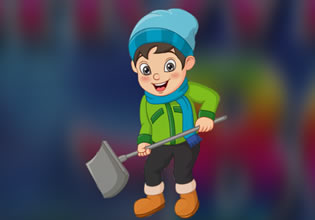 Shoveling Boy Escape
This village here doesn't have shortages on people when it comes to the different tasks there, from spring to winter every person there has a specialty, and one of those people was this boy who was one of the in-charge in shoveling different things. Snow gets really worst here in this area when winter comes, that's why they need people who can really shove the snow aside before it covers paths there that goes around the place. This boy really does his job well, so well that he is even hired on different digging jobs in the place. But that day he will be needing some help though, for something happened to him and he is lucky actually, for Billy who was one of the villagers there found him.
Billy knows this boy, they are not really close but he knows that this kid is one of the shovel boys who works in the village. Okay, it seems that he is trapped in a house there at the moment and he needs help, and help he shall give. Escape players, you will now be in the shoes of Billy here, will you be able to help rescue this boy so he can go back to whatever he was doing at the moment?
Shoveling Boy Escape is a brand new point-and-click rescue escape game from Games 4 King.
Other games by -
Walkthrough video for Shoveling Boy Escape