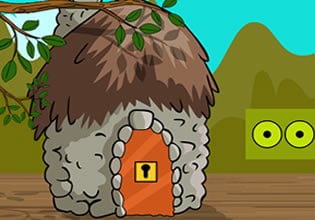 Shiba Inu Escape
The only companion Johnny has here in his lone house in the wilderness was his old dog and his cat. They were good companions, but Johnny saw that his old dog here is reaching the end of his life, so he got a younger dog to accompany his old one and so if one day his best friend here for a decade unfortunately passes, he'll have the new one to cope. Such the delicateness of life, but Johnny would never thought that his new one here which was a Shiba Inu would be so active, so active that none of them even the cat could keep up with it! Well, at least they have a powerhouse of energy that would keep them happy here, but that day though it seems that its hyperactivity have caught-up to it.
Johnny's new puppy just got trapped in one of his contraptions there and the little guy was now trying to escape! The thing was a cage and the moment Johnny saw it, he immediately blew a sigh, for he knows he can't open it now for the key to it was currently missing. Johnny needs to find that thing then so he can free his pup. Escape players, would you like to help here in finding that key to that cage?
Shiba Inu Escape is the newest point-and-click pet rescue escape game created by Games 2 Jolly.
Other games by -
Walkthrough video for Shiba Inu Escape