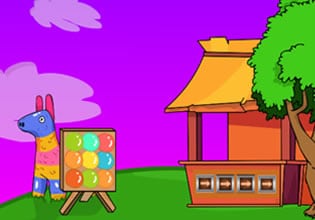 Shar Pei Escape
George lives in a big place, not just the house but also the land where it is standing, it is wide and sometimes wild animals travel through there and they really don't bother anyone, well except for his Shar Pei dog though who really goes after the animals there when they come near the area. That's why George placed a cage there to capture big animals which can be dangerous and release them someplace. But that day though it seems that the one he is protecting and the means he uses to protect will unfortunately get together.
George's Shar Pei got trapped inside the cage he set! That curious creature, why didn't he think of that potential issue sooner? Well it happened already and he should free his dog there. But there was a problem with that, for he could not find the key to this cage of his! Okay, wherever this thing is he needs to find it for his dog is not getting out of there. Escape players, want to help George with his problem here? Just help him locate this key so he can open the cage.
Shar Pei Escape is another new point and click pet rescue escape game made by Games 2 Jolly.
Other games by -
Walkthrough video for Shar Pei Escape