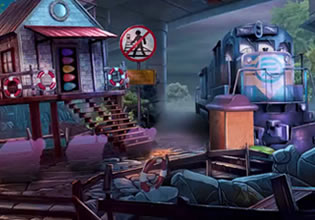 Serene Hyena Escape
There was this docile young hyena living in the town together with the people and even though this creature really belongs in the wild, it was still a pretty harmless creature and even mingles with the local dogs there. They are all always playing around and it's all okay. Well until that day though when the hyena got in trouble and the cause of it was all because of its curiosity!
The hyena got trapped in one of the problematic houses there and now it needs help! Lucky for it though Kyle was around for in the area where it was, nobody comes there and that would have meant nobody will come to its rescue. Kyle is not sure if he will be able to free the hyena himself though, for this is the first time he'll be dealing with one of those problem houses and that's why he'll need some help here as well. Escape players, would you like to help Kyle here free the settlement's only hyena?
Serene Hyena Escape is another new point-and-click animal rescue escape game made by Games 4 King.
Other games by -
Walkthrough video for Serene Hyena Escape