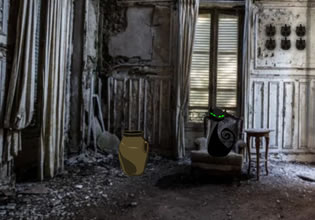 Scary Mansion Escape (Big Escape Games)
The dilapidated mansion close to the woods near the suburbs is really ruined now, the house had been so for decades and nature is starting to reclaim it. But the place is still worthy to be ventured into by explorers and probably even ghost hunters, for its rooms still has some interesting items to discover and rumors too that the place is haunted. Renaldo is there that day for he has come for that adventure which he craved for a long time, that's because he is very much curious of the place. But then he ran into an issue there and he needs to take care of that first.
Escape players, Renaldo doesn't realize the gravity of his situation there, but he will eventually. You need to help him when that comes though for he is really going to get himself in danger there. Want to see what the problem is in the spooky mansion and if you can ever help Renaldo?
Scary Mansion Escape is a brand new point-and-click eerie indoor escape game from Big Escape Games.
Other games by -
Walkthrough video for Scary Mansion Escape (Big Escape Games)