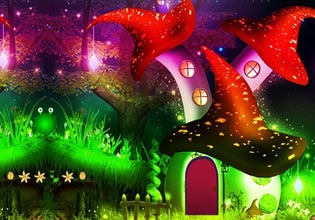 Save The Fantasy Animal
This forest is dangerous, but that's only for the people who doesn't know the place, but for Alva who knows this place very well for he had been coming there for years, he is the exception. This forest is home to strange creatures and beings of magical proportions, he can't really explain why the place is so but he just goes with it, he is even friends with some of the creatures there too. That day as he was venturing there again, he saw that one of his friends needs help! It was this blue elephant rat thing who was named Kin.
Kin needs help for he is trapped in a cage there which they built through magical means. Alva asked what happened to him then, and Kin told him it was an accident which he is too shameful to even mention. Okay then, but he sure needs help there though for he is trapped. Escape players, come and play as Alva here then and save Kin his friend here who was one of the weird creatures of the forest. Find things that can help open this contraption.
Save The Fantasy Animal is the newest point and click wilderness rescue escape game created by WoW Escape.
Other games by -
Walkthrough video for Save The Fantasy Animal