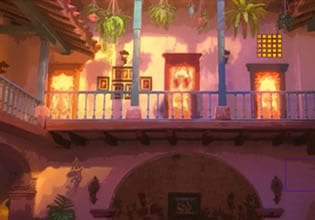 Save The Delightful World
Ken is in the fantasy dimension at the moment, and things there are not really normal. But it is safe there for this area where he frequents where a house is standing is being protected by a fairy. This fairy uses her magic to enclose this place in light so that the dark creatures in the wilderness do not get near here, and for that she has the candle as the representation of that protection. But as Ken went there that day however, something was up for the place was a lot more dim than before.
Ken noticed the change and the aura as well, there could be one explanation for this, and that's the fairy could be in some sort of trouble! Ken checked in a place where she is always there and he saw she was not there! Okay, looks like this speculation of his could be true and the risk for that is this entire place. Ken doesn't want this place gone so whatever happened to the fairy he needs to find her and help her if she is ever in trouble. Okay then, Ken is going to find the fairy here escape players for she is the only one who can turn this situation around and save this place. Want to help then for this could be a hard rescue?
Save The Delightful World is a brand new point and click rescue escape game from Games 2 Rule.
Other games by -
Walkthrough video for Save The Delightful World