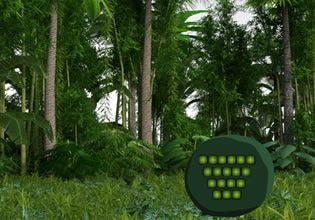 Save The Chipmunk
Antonio is now moving deeper into the grassy forest here for currently he is on his weekly adventure and also he needs herbs which can only be found there. Antonio is on his usual path and everything was normal at first, but he found something there though which was quite mysterious and a definite weird thing along the path.
Antonio found this golden cage which was beautiful and it looks more like a royal crown than a cage! But it is a cage for inside it was a chipmunk and the creature was struggling to get out from it. Antonio have no idea what to make of this, he knows there aren't any people living near this forest but him, but now there was this cage which he doesn't know where this thing came from and it looked weird. Okay, Antonio is now intrigued, he now wants to find-out more about this thing and to get that maybe he'll tinker with it and free the critter inside too? Escape players, Antonio is curious of it so will you help him check this thing out and maybe free the animal then in the process?
Save The Chipmunk is a new wilderness animal rescue escape game developed by WoW Escape.
Other games by -
Walkthrough video for Save The Chipmunk