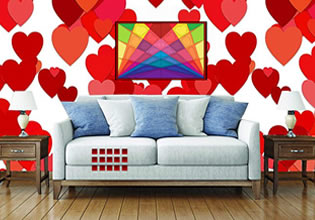 Romantic Wallpaper House Escape
Sheila is finding this beautifully decorated house to her liking, there were a lot of rooms in there and all were decorated with heart designs as well. Maybe she'll take this place for everything checks-out in her list? She pondered. And so, she did but the moment she tried to get out of the place though, something happened and she is now thinking twice.
Sheila could not get out of the house for the doors were now all locked! She is with nobody so that makes this situation very weird. Well, Sheila really likes the place but if she wants to take it, then she needs to get out of there so that her impressions of the house won't be replaced by negativity, even though it is starting to slightly. Escape players, will you assist Sheila there who is trapped in this colorful house so she can escape safely?
Romantic Wallpaper House Escape is the newest point-and-click indoor escape game created by Big Escape Games.
Other games by -
Walkthrough video for Romantic Wallpaper House Escape