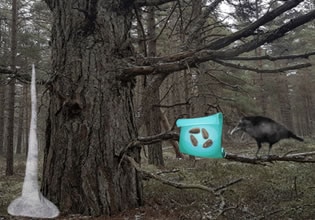 Return To The Frozen Forest
The forest has less snow now, but still it is very cold and a bit dangerous to go around, that's why only a few to no people are going around the place. That day however, Mar is in the area for he was on the search for a number of frozen stars in the place at least 30 and it's scattered across the area. Mar needs to find all of them for he is under agreement with a being at the moment, he was told to get all of those stars for his freedom. He can't escape it in any way, for there is really nowhere to escape to now in the forest. So he has no choice but to do this even though he doesn't really know what those frozen stars even look like.
Escape players, if Mar is going to do this now then he needs to do it quickly for there is really no time to waste, for soon the sun will set and everything will be dark here. Will you join Mar on this adventure and collect every single one of those stars for his freedom?
Return To The Frozen Forest is another edition of point and click forest escape game adventures created by Ainars and Zeb. Explore the forest and find 30 frozen stars to escape!
Walkthrough video for Return To The Frozen Forest
SIMILAR ESCAPE GAMES