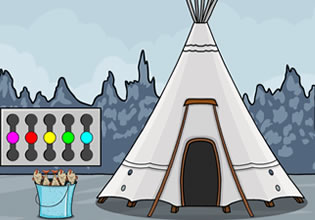 Rescue The Rabbit From Black And White Hut
Leopold decided he'll sleep in his backyard in a teepee hut under the stars and with his roaming rabbits there. This is going to be fun for he haven't done something like this before. He was setting-up his stuff when suddenly there was a problem and he needs to tend to that first.
Leopold found one of his rabbits trapped in the small house he built for them there! The thing about that was he locked it for now for he is repairing it, that gives him the question on how this one entered it even when there is no other passages there. That's mystifying, but Leopold is going to need to find his key now somewhere so he can open the house and free this animal here. Escape players, want to help Leopold on this so he can continue in preparing his stuff there for the night?
Rescue The Rabbit From Black And White Hut is another new point-and-click animal rescue escape game made by Games 2 Jolly.
Other games by -
Walkthrough video for Rescue The Rabbit From Black And White Hut