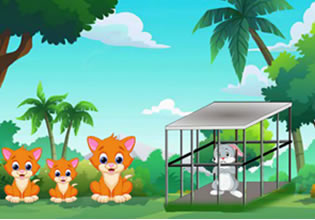 Rescue The Rabbit 2 (Games 2 Mad)
Thanks for your help in the previous game escape players where we helped Alistair with his troubled rabbits. This time though, we will be helping another person and the problem was still rabbits.
Marlon's cage-bells rings outside his house, he was excited for he thought he had captured a boar again, but he feels a little skeptical about this. Well, he was right to be for he just found-out that he had captured a wild rabbit and not a boar. Marlon doesn't want rabbit really, for he sees them as pets and not game, so he'll just free this one then and set the trap again for a better catch. Escape players come and help Marlon find his key here somewhere so he can free this rabbit safely back to the forest.
Rescue The Rabbit 2 is the newest point-and-click animal escape game created by 8B Games and Games 2 Mad. This game is a continuation of the first one as its sequel.
Other games by -
Walkthrough video for Rescue The Rabbit 2 (Games 2 Mad)