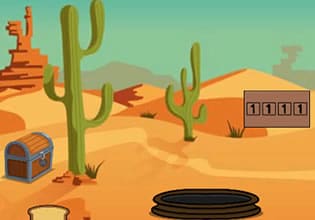 Rescue The Officer From Desert
A couple of police units now have been sent to this remote area in the desert for one of them had gone missing for too long now, and what's getting them concerned is there had been no radio contact the whole time! One of the officers who had been sent was Luis and as this missing officer's close friend, he is quite in genuine concern here for the area is very dangerous, he doesn't want to expect the worst but he needs to be strong just in case. In his sweep, Luis got himself in a strange settlement which seems to be abandoned. Finally, a sight of hope which his co-worker and friend might potentially be in.
Luis looked around the area for a bit just to find any signs of his friend's whereabouts, at first there was nothing, and then he heard a call for help! This missing friend of his was actually trapped down a hole! Luis wanted to get help first but his friends seems weak and his radio is not reaching any nearby operatives, he must have gone too far and now off range. Looks like Luis is going to do this then, he'll rescue his friend alone, but he is going to get a little-bit of help though. Escape players, will you provide him with that help to rescue his friend?
Rescue The Officer From Desert is a brand new point and click rescue escape game from Games 2 Jolly.
Walkthrough video for Rescue The Officer From Desert
SIMILAR ESCAPE GAMES