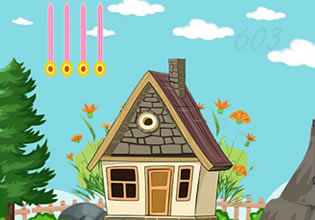 Rescue The Mountain Goat
Elton can see the mountain goats near his lone house in the wilderness and they are roaming around the forest and climbing the steep hills. He doesn't mind them really, for this is their home and besides, if he catches one of them then he might mistakenly capture one of the goats at old man John's herd and that guy is cranky. Well, that day he might have, for he found his cage and it was now holding one of the old mountain goats!
Upon seeing this, Elton immediately acted for even though there is a slight sign that the goat is wild, it could still be one of John's and if he finds-out about this then he is going to get cranky on him all day again. Escape players, Elton needs your help here in freeing this goat quick. Want to assist him so that he can pretend that nothing happened here?
Rescue The Mountain Goat is the newest point-and-click animal escape game from 8B Games and Games 2 Mad.
Other games by -
Walkthrough video for Rescue The Mountain Goat