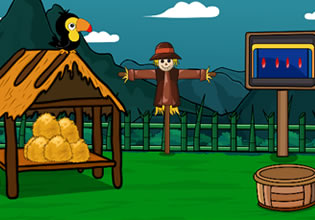 Rescue The Merciful Squirrel
Dante's farm here is pretty serene and kind of weird, one reason for that is whenever he brings animals of different kinds in his farm, they become docile. That's very weird indeed, but would he want it any other way? Nope, he likes it that way and he considers it as a blessing even when he doesn't understand how this is happening. One of the animals that comes to visit him every morning was this big squirrel which he sees was quite merciful in some way. But that morning he needs to be merciful to it for it got accidentally trapped in his cage there!
Dante's cage was not even open, but this squirrel still got trapped in there. Okay, he is going to need to find the key to that cage so he can free the animal. Escape players would you like to help on this for at the moment that said key is nowhere to be found?
Rescue The Merciful Squirrel is the newest point-and-click animal escape game from Games 2 Jolly.
Other games by -
Walkthrough video for Rescue The Merciful Squirrel