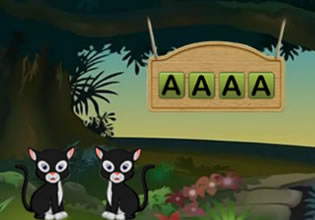 Rescue The Grey Cat
Sarah was just roaming around the forest to gather some herbs and spices when she saw this cage and in it was a wild and potentially rare type of cat!
Sarah was not ready for this really, that's why she got startled. But then she collected herself and tried to pry the cage open for that was her first instinct. Sarah couldn't open its door for it seems to be locked really well. Sarah is a bit confused now, was this a trap or a cage? Does this cat belonged to someone? Was it even wild? For Sarah thought this is a trap and it captured a wild rare cat here in the wilderness. Sarah stuck with her instincts though and tried to find something that can pry this cage open. Escape players, Sarah will need some help on this for her efforts here seems to be not working. Would you like to help her then so that this cat will be freed?
Rescue The Grey Cat is another new point-and-click animal rescue escape game made by 8B Games and Games 2 Mad.
Other games by -
Walkthrough video for Rescue The Grey Cat