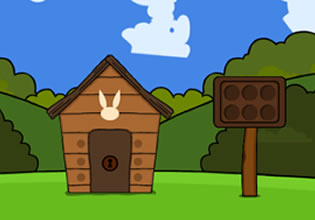 Rescue The Gray Rabbit From Cage
Andrew have turned his doghouse outside into a trap, he had somehow moved-on after the passing of his beloved pet and his trap became busted, that's why he turned the small house of his dog into a trap for wild game to catch in the wilderness. Andrew wishes to catch wild pigs or maybe fowl, well he didn't expect his catch there would be different though, and he is going to end-up rescuing this animal even!
Andrew captured a rabbit! He definitely didn't expect that, he doesn't really want rabbit and he treats such creatures as pets, so he will have to release it and reset his trap. But there was a problem with that though, for now he could not find the key to open the trap. Escape players, Andrew cannot free the rabbit if he doesn't find the key, will you help him then so he can open it and set to wait for another catch?
Rescue The Gray Rabbit From Cage is a new point-and-click animal escape game developed by Games 2 Jolly.
Other games by -
Walkthrough video for Rescue The Gray Rabbit From Cage